2018 Swaffham Visual Arts Festival Launched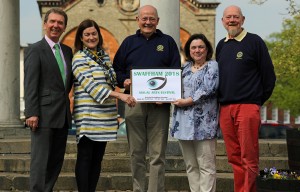 Swaffham Rotary has announced the dates of the 2018 Swaffham Visual Arts Festival, and unveiled several key events to take place during the month-long celebration of art, which takes place in October.
Highlights include talks and displays by internationally acclaimed installation artist Rebecca Louise Law and well-known local artist Jane Hodgson, a performance of 'Into Thin Air' by Norfolk playwright Rob John, and the three-day Annual Art Exhibition at the town's Assembly Rooms. 
Further events, including a photographic walk about the town and a literary talk on life in Norfolk, will be announced in coming weeks.
The Festival has also announced that its principal sponsor is once again local firm Abel Homes, whose chairman Tony Abel was appointed patron of the Festival last year.
"After a tremendously successful Festival in 2017, when we raised over £6,800 for local and international charities, we are delighted and excited to be launching this year's event, and announcing the first confirmed events," said Stephen Ward, chairman of the Festival organising committee.
"The four events which we are unveiling today bring top-quality artists and performers to the town, culminating in the Annual Art Exhibition, which celebrates the best of local art, from lino printing to oils, photography to watercolours, silverware to pottery.  The show will be open for three days, with the ever-popular preview evening opening."
Confirmed events so far:
Festival Launch event: Talk and Display by Rebecca Louise Law – Saturday 6th October, West Acre Theatre
Internationally acclaimed installation artist Rebecca Louise Law is best known for artworks created with natural materials, namely flowers and other flora.  The physicality and sensuality of her work plays with the relationship between humanity and nature.  Law is passionate about natural change and preservation, allowing her work to evolve as nature takes its course and offering an alternative concept of beauty.
Notable commissions include 'The Grecian Garden' (Onassis Cultural Centre, Athens), 'Outside In' (Times Square, New York), 'The Beauty of Decay' (Chandran Gallery, San Francisco) and 'Life in Death' (Shirley Sherwood Gallery, London). Law's work has also been exhibited by Bo. Lee Gallery, Broadway Studio & Gallery, NOW Gallery and at sites such Askew Gardens, the Royal Academy and the Victoria & Albert Museum.
Stage Play: 'Into Thin Air' by Rob John, performed by fEAST Theatre Company – Tuesday 16th October, The Nicholas Hamond Academy
Written by the Norfolk playwright Rob John and performed by the fEAST Theatre company, which was formed in 2010 by Rob John & Mandy McKenna.  Since then the company has been developing and showcasing new work by professional writers, actors and directors from Norfolk and the Eastern region.
The company's aim is the creation of theatre telling compelling new stories, filled with Norfolk voices and untold pieces of the region's past, that resonate with local audiences.
'Bringing original and vibrant theatre to our region' – Eastern Daily Press
Talk and Display: Jane Hodgson – Saturday 20th October, The George Hotel
Well known local artist Jane Hodgson was born in England to New Zealand parents, something that has informed her work, and meant she moved from London to Norfolk on her return from working in New Zealand in the 1980s.
She says, "Every spring the light strongly reminds me of the sharp, bright NZ light.  I stand outside and look at the clouds here in these wonderful, open skies, and have an echo of the huge clouds and blue skies in New Zealand."
Currently exhibiting at The Pink Foot Gallery on the North Norfolk coast, Jane will take a break in her busy schedule to come to the Festival this year.  Besides her talk, she will also be exhibiting at the Annual Exhibitions at the end of October.
Annual Art Exhibition – Friday 26th to Sunday 28th October, with Preview Opening on Thursday 25th October, The Assembly Rooms, Swaffham
For more information on the Swaffham Visual Arts Festival, and for the artists application form, visit www.swaffhamvisualartsfestival.co.uk.