Abel Homes Scoops Two Prestigious Norfolk Business Awards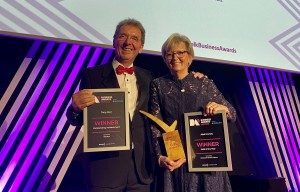 At a glittering ceremony last night (Thursday 25th November), Abel Homes scooped two prestigious Norfolk Business Awards - including a special Outstanding Achievement Award for founder and chairman Tony Abel.
The firm was named SME (Small and Medium-Sized Enterprise) of the Year in the awards, which are organised by the Eastern Daily Press.
Meanwhile, Tony Abel's lifelong achievements in business were recognised with a special Outstanding Achievement Award.  He was described by the judges as 'a leading figure in the business community for over 30 years, Tony and the business has been ahead of curve with his team leading the construction of low energy efficient homes.'
Receiving the award, Tony said, "If my father could see me win this award I think he would be so proud. I left school at 15 – I've never taken an exam.
"This all began when my wife Maggie and I drove past a few homes which hadn't been finished and we thought 'Why not?'
"Then we did a few in Hingham – my wife sketched the houses and I drove the JCB. I never dreamed we'd end up here."  
The winners were announced at a ceremony at The Showground Arena in Norwich in front of more than 500 guests.  The guest speaker was Kanya King CBE, founder of the MOBO Awards.