Abel Homes Shortlisted For Prestigious Business Award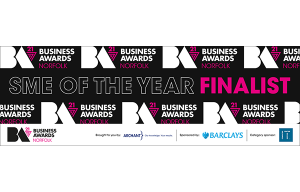 Abel Homes has been announced as a finalist in the prestigious Norfolk Business Awards, the winners of which will be announced later this month.
The firm has been shortlisted in the 'SME of the Year' category in the awards, which are organised by The Eastern Daily Press.
Open to businesses with a turnover between £2million and £50million, the award aims to recognise a company which has 'has shown consistency in stability in their ownership of their market share, and shown evidence of commitment to its purpose, community, employees, customers as well as development of products/service'.
The winner will be announced at a ceremony in Norwich on 25th November, when the guest speaker will be Kanya King CBE, founder of the MOBO Awards.
Abel Homes managing director Paul LeGrice said, "We are delighted to be finalists in these awards, in the company of some of Norfolk's most innovative and successful businesses.
"We are very much looking forward to the awards event, and our fingers are firmly crossed!"