And The Winner Is…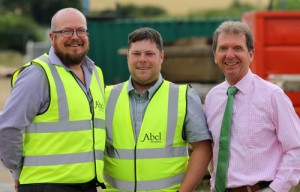 No-one ever said that running a business is straightforward, and with so many competing pressures, it is all too easy to lose sight of two crucial truths: you will only succeed if you delight your customers; and to do that, you need to make sure your business is filled with talented, enthusiastic and motivated people, writes Tony Abel.
However hard we try to achieve those aims, it is always nice when those efforts are recognised.  And so we were particularly delighted a couple of weeks ago when two of our site managers won prestigious 'Pride in the Job' Awards.
Tim Walshingham, who oversees our Swan's Nest site at Swaffham, won the award for the fourth time, while Danny Pinner, who is in charge of our Walnut Tree Fields site in Mattishall, carried off his third such award.
These accolades, handed out by industry body the National House Builders Confederation (NHBC), are only bestowed following a 'Michelin Guide' style inspection by a NHBC inspector, who assess site managers against 38 strict criteria, including workmanship, excellent leadership skills, technical expertise, the ability to turn the designer's intentions into reality, good health and safety standards, and a commitment to raising standards.
It is no coincidence that all of these things are central to building new homes which will delight customers.  It has been particularly pleasing to see so many of our customers congratulating Tim and Danny on social media; the work they do plays an important part in building a reputation for quality.
Tim and Danny are two of just nine site managers across the whole of Norfolk who have won the award this year, with small, local house builders generally punching well above our weight compared with the major national constructors.  We take great care and considerable pride in what we do; our customers know this, but it's nice for it to be recognised by the leading industry body, too.
Talking of punching above our weight, the Pride in the Job Awards were not the only accolades coming our way in the past month.  At the end of June, the London Stock Exchange published its sixth annual '1000 Companies To Inspire Britain' report, a celebration of the country's fastest-growing and most dynamic small and medium-sized businesses.
For the second time, Abel Homes was included in the list.  As well as demonstrating our performance, being on the list shows that the way that we do things is inspiring others.  I believe that everything from the way we accept our community obligations through to the way we develop our people (for example, our award winners Tim and Danny started with us as a digger driver and an apprentice carpenter respectively) contributes to that inspirational effect.
Of course, awards are lovely to receive, but the true measure of success is how well you perform against those two critical truths I mentioned at the top of this column.  So we will take a moment to celebrate our awards, then get back to the really important task of doing just that.