Businesses Urged To Support Wayland Show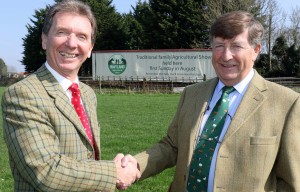 Businesses in Wayland have a duty to support local charity-based initiatives – that is the call that has been made by a local businessman who has announced that his firm will once again be supporting the Wayland Show this year.
Abel Homes, based on the Neaton Business Park in Watton, has once again signed up as a sponsor of the Show, which relies on business sponsorship to help cover its £130,00 annual costs.  Any profits from the Show are distributed to local good causes.
The Show, which takes place on the first Sunday of August on the edge of Watton, attracts around 15,000 people each year from Norfolk,. Suffolk, Essex and Cambridgeshire, and has built a reputation as being a leading livestock show, as well as offering top-class family entertainment. 
It is one of the oldest agricultural shows in the country, with records showing that the Wayland Association was giving prizes and arranging exhibitions of the livestock, pets and garden produce of cottage dwellers on Lord Walsingham's land as early as the first half of the 19th century.
"We are very grateful to Abel Homes for their continued support of the Show," said Show president Kevin Bowes.  "If we didn't have our sponsors, we wouldn't have our show, it is as simple as that.
"It is more important than ever to educate people about where their food comes from, and events like the Wayland Show play an important part in doing that.  The more sponsors we can find, the better we can make the show for everybody."
Abel Homes chairman Tony Abel added, "I have lived and worked in and around Watton all my life, and even went to school within sight of the Wayland showground, and I think it's important for local businesses to support events such as the Wayland Show.
"I believe that when you are a local business operating within a community, you have a duty to support local charity-based initiatives.  We are delighted once again to be involved with the Show, and I would urge other local businesses to follow our lead."
This year's Wayland Show takes place on Sunday 6th August.  More details at www.waylandshow.co.uk.