Buyers Flock To New Homes Launch In Watton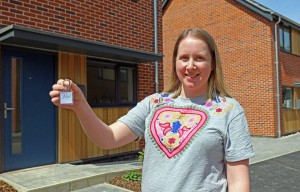 Strong demand for new homes built by one of Norfolk's leading house builders saw ten out of 12 new homes released at a new site in Watton sold within 72 hours of being released.
Abel Homes' Rokeles Green site was launched last weekend, and all but two of the dozen homes available over the launch weekend were snapped up by eager buyers.  Twelve two-, three- and four-bedroom houses were released for the launch last weekend.
The Watton-based firm is building 45 energy-efficient family homes on the site on Norwich Road, which will also see the creation of a new 20,000 sq ft Lidl supermarket.
"This was one of our busiest launch weekends ever, with all but two of the homes in the initial release sold by the end of Sunday," said Abel Homes sales manager Clare Cornish.  "It just goes to show that there is a strong demand for energy-efficient, high-quality new homes in the town.
"In addition to the ten homes sold, we also took two early-bird reservations for homes on the next phase of the development."
Many of those purchasing homes were first-time buyers taking advantage of the Government's Help To Buy scheme, which is due to come to an end next year.
One of those using Help To Buy to purchase their first home was Catherine Smith, who was the first to put pen to paper on launch day, buying a two-bedroom semi-detached house.  The 32 year-old nurse, who works at the Norfolk & Norwich Hospital, said she was relieved to have been able to snap up one of the new homes.
"I have spent a couple of years being outbid on properties, so I am delighted to have bought one of these stunning new homes," she said.
"I like that these are eco-homes, both for environmental reasons and because of rising energy costs.  I really like that this is a fairly small development, and I have had very good feedback about Abel Homes from friends and colleagues who have bought from the company.
"Although I have been able to save a deposit of more than five per cent, with the help of my family, Help To Buy has made a massive difference, and has enabled me finally to own my own home."
Also buying one of the new homes on launch day were sales manager Jonathan Seaman and his partner, civil servant Joanna Douglas.  The couple, who are expecting their first child in October, snapped up a three-bedroom semi-detached house at the site.
"We have always liked Abel Homes, and I nearly bought one on their Hus46 site in the town a few years ago," said Jonathan.  "We like the design of the houses, they look contemporary, and they are very well built.  I have actually known people who have worked on Abels' sites, and they have told me about the attention to detail which goes into their houses."
The couple, who are currently living with family in Watton, are looking forward to moving into their new home in the late summer, in time for their new arrival.
More details about Abel Homes' Rokeles Green site can be found at www.abelhomes.co.uk.