Cabinet Minister Visits Abel Homes Site To See How Local House Builders Deliver New Homes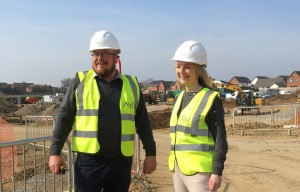 Cabinet minister and southwest Norfolk MP Liz Truss paid a visit to Abel Homes' Swan's Nest site in Swaffham to see for herself how smaller, locally-based builders are rethinking the UK's approach to house building.
Mrs Truss, who is Chief Secretary to the Treasury, was shown around the site by Abel Homes chairman Tony Abel, managing director Paul LeGrice and site manager Tim Walsingham, as well as meeting newest residents Richard and Karen Machin, who moved into their brand new four bedroom detached home the day before the ministerial visit.
Mrs Truss was keen to discuss planning issues and the issues involved in new home delivery with those at the sharp end, and spent some time touring the site with the Abel Homes team.
She later tweeted: 'With @tonyabel and team talking about cutting red-tape to get more great homes built, welcoming new residents to Swaffham #moregreathouses #norfolkbuilders #greendevelopment #YIMBY'
Abel Homes chairman Tony Abel said, "It was good to see our local MP and cabinet minister taking an interest in how a local house builder is tackling the challenge of delivering much-needed new homes, and ensuring that those new homes are sustainable and energy-efficient.  At a time when some people think that our politicians live in an exclusive Westminster 'bubble', seeing them with their boots and hard hats on and being able to discuss the issues we face on the ground is very important."