Celebrating Our New Communities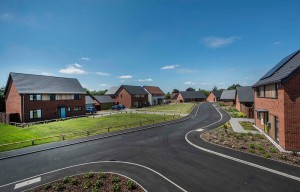 During the lengthy and sometimes tortuous planning process, inevitably attention turns to technical matters such as highways and utilities, and it's easy to forget that what we are all talking about is creating a new community, somewhere which families will want to call home.  So it's good to be reminded what it's all about from time to time, writes Tony Abel.
Twice in the last month we have held 'end of development' parties.  These happy occasions, at which the residents of the new homes we have built are the guests of honour, have become an important part of what Abel Homes is all about.  They are also where we unveil a piece of public art, our parting gift for the new community.
It was ten years ago when we committed to commission a public artwork on each of the sites where we build new homes.  We always secure the services of a Norfolk artist to create these, and we try to pick up a local theme in the artwork itself.
So at Little Melton last week, where we unveiled our ninth such commission, a metal and wood bench made by the artisans at Holkham Forge, the design incorporated a lime tree, marking the nearby Jubilee lime which was planted by the village vicar in 1887 to mark Queen Victoria's 50 years on the throne.
Art of course has close links with architecture, so there is a natural fit in what we do; but there is another, more important, reason for commissioning these artworks.  They act as a focal point, a kind of modern-day 'village sign' to give the development a sense of place and a sense of community. 
In these days of increasing isolation and loneliness, promoting community is more important than ever – which is why it is good to be reminded that what we do is just that - building communities.
An important part of kick-starting that process is the parties we hold to unveil the artwork.  It is here that new neighbours often meet for the first time, and we also invite people from the local, parish and district councils who have been involved in the long planning journey which has led to this culmination of the project.
It is an inevitable part of being a house builder that we will encounter some hostility when we initially put forward proposals for a particular site.  Often these discussions get mired in minutiae, and the bigger picture gets forgotten.  And yet when the site is completed and we bring members of the new community together to celebrate that fact, the new home owners are always so happy, and that's usually the case with the councils as well.
Wouldn't it be nice to be able to bottle some of that positivity and introduce it into the planning process itself?  I realise that's a bit of a dream, but when we finish a development on a happy and positive note, it does make it all worthwhile.