Community Cricket Club Celebrates Double Winning Season With Principal Sponsor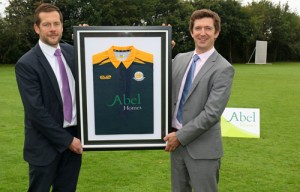 A triumphant Norfolk community cricket team has marked the crucial support of its principal sponsor by presenting them with a framed cricket shirt.
Hingham Cricket Club's First Eleven are celebrating a double-winning season, becoming Champions of the Norfolk Cricket League Division Two West and hence winning promotion to Division One, as well as winning the Norfolk Cricket League Tom Bartram T20 trophy.
Club chairman Daniel Key marked Abel Homes' third season as the club's principal sponsor by presenting Chris Abel of the house builder with a presentation shirt, which will be displayed at the firm's Watton offices.
"We have had a great season on the field, but we never forget just how important our sponsors are to keeping the game going," said Mr Key.  "Looking after the pitch, buying kit and insurance are just three of the expenses a community club like Hingham CC has to fund every year, and our sponsors are a crucial part of keeping the game going.
"This year we have also been able to replace our sight screens and nets with the help of our sponsors.
"The first team's success motivates everyone at the club, but equally important are our Second Eleven and especially our Under 17s team, which represents the future of the game at grassroots level."
Receiving the shirt, Mr Abel said, "We are very much part of the local community, having built new homes in Hingham on several occasions.  As a small, locally-owned firm, we love to get involved with the communities where we live and work, and it's a pleasure to be associated with a club which is successful in every meaning of the word."