Expanding Norfolk House Builder Announces Three New Appointments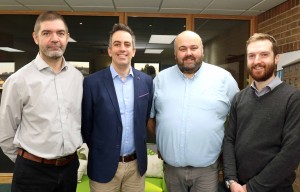 Norfolk house builder Abel Homes has announced three new appointments as it expands its team to cope with planned growth over the next two years.  The Watton-based firm, winner of the SME of the Year award at the 2021 Norfolk Business Awards, is in a period of growth, with turnover projected to double between 2020 and 2024.
The firm has appointed Rob Burton and Lewis Dinnebier as technical co-ordinators, responsible for liaison with professionals such as architects, engineers and energy consultants.  Mr Burton joins from a north Norfolk architects practice, while Mr Dinnebier has previously worked at a Norwich architects practice and a Lincolnshire-based house builder.
Meanwhile, Robert Chase has joined the firm as senior buyer.  He joins after eight years in a similar role at a Suffolk-based house builder, prior to which he worked in the builders merchants trade.
Abel Homes managing director Paul LeGrice said, "As we enter a period of growth, strengthening our team to add capacity and capability is an important part of our plans.  We are delighted to announce these three appointments, which will help ensure we are well-placed to continue to achieve our ambitious targets over the coming years."