First Of 88 New Homes In Hingham Topped Out Using Specially-Commissioned Beer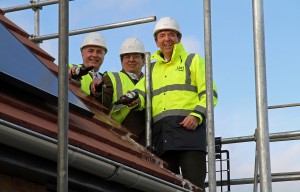 Two Hingham community leaders joined a local house builder up on a roof to mark the topping out of the first of 88 new homes in the town in the traditional way – by pouring a specially commissioned beer over the roof tiles.
Sam Coster from Hingham Cricket Club and Chris Robinson from Hingham Football Club joined Tony Abel from Abel Homes to pour bottles of a specially brewed beer over the new home, which will be the show home at 'The Hops' development, where the Watton-based firm is building the new energy-efficient homes on a 9.1 acre site.
The topping out ceremony involving beer is particularly appropriate for the site – because the land was once owned by Charles Crawshay, a 19th century brewer and partner in Youngs, Crawshay and Youngs brewery.
To mark the creation of the new homes, Abel Homes has commissioned a special beer called 'The Hops' from Attleborough brewer Wolf Brewery, and it was this that was used to perform the traditional ceremony. 
Mr Abel commented, "I'm delighted that two of Hingham's community leaders could join me to perform this ceremony to celebrate the topping out of the first of 88 much-needed family homes in the town.
"It was here in Hingham that we built our very first new homes 20 years ago, so it's great to be back again.  We are committed to creating a really attractive new community here, which will enhance a town of which I am very fond."
The new homes being built by Abel Homes will have an 'A' rated Energy Performance Certificate (EPC), the highest achievable rating for energy efficiency, and will have photo-voltaic solar panels, triple glazing and air-source heat pumps. 
They will also feature fibre broadband direct to each home, as well as electric garage doors and floor coverings to every room as standard.  As part of the development, Abel Homes will create a public open space, and has also made a commitment to provide a piece of public artwork on every site where it builds homes.
The new homes will offer a mix of one-, two-, three- and four-bedroom houses, as well as a number of newly designed chalet-style homes comprising of a ground-floor bedroom plus two further bedrooms upstairs.  Twenty-nine (around a third) of the houses will be affordable homes
The showhome will open in April; further details of the new homes at The Hops in Hingham are available at www.abelhomes.co.uk.