First Release On Latest Phase Of Popular Swaffham Site Sells Out Within Days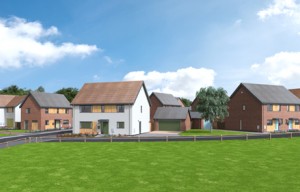 The entire initial release of a new phase of a popular new homes development in Swaffham has sold out within days of coming onto the market – despite the launch coming just two weeks before Christmas.
Norfolk-based house builder Abel Homes – which was named Small and Medium Enterprise of the Year in last month's Norfolk Business Awards - released the first six new homes on Phase Five of its Swan's Nest site in the town last Saturday, and four of the homes sold during the launch weekend, with the remaining two being snapped up during the week.
The homes offered in the initial release consisted of two two-bedroom semi-detached houses with garage, three three-bedroom houses with garage, and a spacious four-bedroom detached house with double garage, with prices ranging from £210,000 to £440,000. 
All the new homes are being built to a very high specification of energy-efficiency, with solar photovoltaic panels, triple glazing and high levels of insulation.  Each new home boasts an EPC rating of 'A' – the most energy-efficient band.
The new homes also come with fitted appliances, garages with electric doors, BT fibre broadband to the premises, and floor coverings included throughout.
The launch attracted a variety of purchasers, including local first-time buyers and people looking to retire to Norfolk.
"Swan's Nest has been a popular, in-demand site ever since we first launched it in 2015," said Abel Homes sales and marketing manager Clare Cornish.  "Phase Five is the final phase of the site, and the launch of this new phase has been much anticipated.
"We released the first properties just two weeks before Christmas, so to sell the entire release within days is a good indication of the pent-up demand for quality family homes in Swaffham."
Swan's Nest, on the south side of the town adjacent to Brandon Road, has seen high levels of demand since the site was first launched in 2015.  The fifth and final phase of the site will see a further 105 family homes built alongside the 319 in Phases One to Four.
The next release of new homes on the site will be early in the new year.  Potential buyers can find more details by visiting www.abelhomes.co.uk/developments/swans-nest-swaffham.