First Resident Moves Into Community Of New Homes In Watton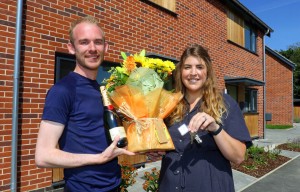 A nurse working at the Norfolk & Norwich University Hospital has received the keys to his brand-new home in Watton – the first to move into a development of 45 new homes in the town.
Abel Homes customer care supervisor Kirstie Barber welcomed Dan Ashton with flowers and a bottle of Champagne, and the keys to his two-bedroom house at Rokeles Green, Watton.
Mr Ashton, who had sold his previous home in Dereham a  few months ago, decided to move back in with his parents, so enthusiastic was he that his next home would be an Abel home.
"I have been looking for an Abel home for some time," said Mr Ashton, who has worked at the hospital for six years.  "I have viewed houses by other builders, but none of them have given me the same impression of quality as those built by Abel Homes.
"When I found out they were building in Watton, which is just 20 minutes drive from work and close to my parents' home in Foulsham, I put my name down immediately."
Mr Ashton visited the site on the first morning the sales office was open, becoming one of the first to reserve a new home during the launch weekend.
"I know people who own Abel homes, and they have all been very happy.  It is the attention to detail that I like.
"The site here at Watton is lovely, it's on a much more human scale than some I have seen.  Despite me being the first to move in, there is already a thriving Facebook group for people who have bought here, and it looks like this is going to be a really nice community."
Welcoming Mr Ashton to his new home, Abel Homes customer care supervisor Kirstie Barber said, "It's always nice to welcome people into their new homes, especially the first person to move onto a new development.  We have always said that our business is not about bricks and mortar, but about creating new communities, and we have started to do that in Watton today".
The site at Rokeles Green will see the construction of 45 energy-efficient family homes, as well as the creation of a new 20,000 sq ft Lidl supermarket.
Each of the new homes on the site will be rated 'A' for energy-efficiency, the highest possible rating, with features such as air source heat pumps, solar photovoltaic panels, triple glazing and enhanced levels of insulation as standard.
More details about Rokeles Green can be found at www.abelhomes.co.uk/developments/rokeles-green.