House Builder Announces 15th Commission In Its Public Art Programme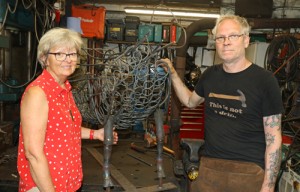 Norfolk house builder Abel Homes has announced the 15th commission in its ongoing public art programme – exactly 15 years after the firm made the commitment to place a new piece of art from a local artist at each of the sites where it builds new homes.
A large galvanised sheep is the latest piece of public artwork, and it will be placed on an area of public open space near the entrance to the firm's Rokeles Green site at Watton, where 45 energy-efficient family homes are being built.
The sheep sculpture is being created at Fransham Forge by owner Nigel Barnett and his colleague Bruno Oliveira.  Its fleece will be made of over 240 metres of mild steel 'fleece', which will sit on a steel frame.  The metal will be galvanised to prevent it corroding.
The sheep theme was chosen because the land on which the new homes are situated on land which was once home to a flock of sheep.
This is the second commission from Abel Homes from Fransham Forge; in October last year they unveiled a 1.2 tonne, nine metre long bench representing a section of Norwich's Northern Distributor Road at the firm's site in Taverham.
"We are delighted to be working with Nigel at Fransham Forge, once again," said Maggie Abel.  "Our public art programme is designed to give each of the sites where we build new homes a focal point for the new communities we are creating, a place where residents can meet and chat."
The sheep sculpture will be unveiled at the site in Watton later in the summer.  Just one four-bedroom home remains for sale at the site; for further details visit www.abelhomes.co.uk/developments/rokeles-green.