House Builder Offers £5,000 Reward For Information About Theft At Construction Site In Hingham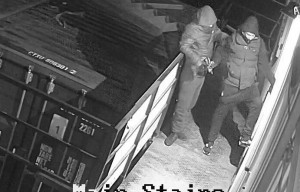 A Norfolk house builder is offering a £5,000 reward following a break-in at one of its sites in the early hours of Sunday morning.
Two men were caught on CCTV breaking into the site compound at Abel Homes' The Hops site off Norwich road in Hingham at 2.25am on Sunday morning.  The pair prised open steel shutters before steaking a laptop computer and iPad, as well as valuable power tools.  The thieves broke CCTV camera fixings, but the cameras continued to record the theft.
Now the company is offering a reward of £5,000 for information leading to a successful prosecution of the perpetrators.
"We are angry and frustrated by this theft, which included not only our own property, but power tools belonging to tradesmen who are working on our site," said Abel Homes production manager Robert Loudoun.
"The result will be cost and inconvenience for all concerned, at a time when house builders are extremely busy ensuring that homes are completed for those moving in before Christmas.
"We will be reviewing security at all our sites, and have offered a substantial reward because we want to send out a message that we will do everything we can to identify anyone targeting construction sites for theft."
A Police forensic team attended the Abel Homes site at Hingham on Sunday morning.  The thieves dumped several crates containing motorcycle spares at the site; it is assumed this was to make room in their vehicle for the stolen tools and equipment.
Anyone with any information about the theft can call confidentially by calling 101.