House Builder Starts Year With Two Substantial Charity Donations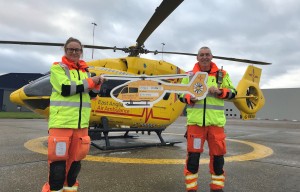 Norfolk house builder Abel Homes has started the year by announcing two substantial grants from its charity fund – and is urging businesses throughout the county to get behind local voluntary organisations which are facing 'one of the toughest periods in recent years'.
The Watton-based firm has donated £10,000 each to the East Anglian Air Ambulance and East Anglia's Children's Hospices (EACH).
Chairman Tony Abel said, "Not only has the pandemic increased demand for the services that Norfolk's fantastic charities provide, but it has also made fundraising very difficult indeed.  Local voluntary organisations are facing one of the toughest periods in recent years, so it is more important than ever that the county's business community gets behind them and supports them.
"These are two wonderful charities which support some of the most vulnerable people in our county, and we are delighted to be able to make these donations."
Abel Homes is a long-time supporter of EACH, and since pledging to support the charity's Nook Appeal in 2015, has donated over £50,000 to the charity.
EACH Norfolk corporate fundraiser Caroline Allen said, "Our specialist care and support is reliant on contributions like this from Abel Homes.  The donation will help make a difference at a time when requests for day-to-day care are surging as families become exhausted from shielding.
"We have never needed this support more. As a result of disruption to fundraising activities and our shops being closed, we were forecasting a loss of £2.2 million in funding over the next 12 months and that was before this third lockdown.  A big thank you to Abel Homes for their continued support."
Conor McGeown, head of development at East Anglian Air Ambulance, added, "We are hugely grateful to Abel Homes for their amazing £10,000 donation to East Anglian Air Ambulance.  Our crews have continued to provide critical care to those in need on the frontline throughout the pandemic, as well as supporting local hospitals to balance capacity in intensive care by transferring patients to other hospitals, as required.
"As a charity, we are feeling the impact of Covid-19 on our fundraising, so we're especially grateful to receive this support which will fully fund three of our emergency helicopter missions – each of which will make a massive difference to the lives of local people and their families.  Thank you to all at Abel Homes."