Huge Demand For New Homes Development In Little Melton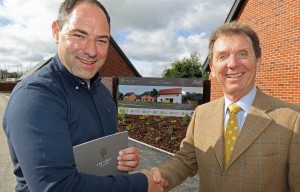 A hugely successful launch weekend at Abel Homes' newest development saw half of the initial release sold in the first two days – with reservations also taken on future plots where construction has not yet even started.
The Watton-based house builder launched The Limes at Little Melton, a collection of 28 new two-, three-, four- and five-bedroom houses and bungalows which have the top 'A' rating for energy efficiency with features such as photo-voltaic solar panels, triple glazing and high levels of insulation, as well as fibre broadband direct to each home.
Potential buyers arrived at the site as much as two hours before the doors opened on Saturday morning, with the first home being sold just minutes after the first release went on sale.
PR executive and former newspaper man Phil Royle was the first to put pen to paper to snap up a three-bedroom detached house at the site. 
Mr Royle, who will move into the home with his wife Bonnie and three year-old daughter Grace in the summer, was wowed by the contemporary design of the homes, as well as the location.
"The formula is absolutely spot-on," he said.  "I love the contemporary design.  There is so much light, and the homes are energy efficient with solar panels and under-floor heating.  And because I run my business from home, fibre broadband is important as well.  These homes have such a good specification.
"Little Melton is a great location, too - close to the A11 and the A47, but also a cracking little village.  It really does offer the best of all worlds."
Abel Homes managing director Paul LeGrice said that the launch had been a spectacular success.  "We had over 300 people register their interest prior to the launch, and demand was so high that we had to offer viewings by appointment only.
"Little Melton is such an attractive place to be building new homes, as it retains a village community feel, despite being so close to Norwich.  The demand for these new homes just goes to prove that if you build the right product in the right location, there will always be a demand.
"We are continuing to conduct viewings during the week, so anyone who wants to snap up one of the first homes for sale here will need to move quickly."
The site, on Mill Road in the village, is called 'The Limes' after a special Jubilee lime tree planted close to the site by the vicar of Little Melton in 1887, to mark Queen Victoria's Golden Jubilee.
Full details of The Limes can be found here.