It's A Family Affair: Four New Homes On Swaffham Site Bought By Members Of The Same Family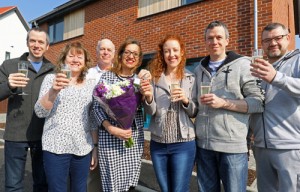 A development of new homes in Swaffham is turning into a real family affair after members of one family have bought four homes on the same site.
Mike Baxter and his partner Alison Clarke received the keys to their new two-bedroom home at Abel Homes' Swan's Nest in the town – joining his parents and two brothers in choosing the site for their new home.
First onto Swan's Nest was Mike's brother Simon, who bought one of the first homes on the site seven years ago with his girlfriend Mandy Davies.
A year later Mike joined his other brother Steve in buying a four-bedroom home at Swan's Nest.  Next to move onto the site were their parents Andy and Lesley Baxter, who moved from the former family home in North Pickenham into a three-bedroom home on Phase 3 of the site.
Now Mike and Alison, who are getting married in May next year, have bought their own home on the latest (and final) phase of the site, which will see 105 new homes built alongside the 319 homes already completed in Phases one to four.
Mike, an IT manager at Dereham Neatherd High School, and Alison, who is a teacher at the school, say that buying a home at Swan's Nest was an easy choice.
"We were attracted to the site because it has lots of open spaces and feels spacious, as well as by the style of the houses themselves," said Mike.  "We were also able to choose how we wanted our new home to be, even to the extent of moving walls and doors to fit in with what we wanted.
"I have lived here with my brother Steve for six years, and it's such a nice community, and having almost the whole family here is a real bonus."
Welcoming Mike and Alison to their new home, Clare Cornish, sales manager at Abel Homes, said, "We are delighted to welcome a fourth member of the Baxter family to Swan's Nest.  We try and create communities of new homes where people will want to live, and clearly for this family, we have succeeded."
It's not quite the whole family which has settled at Swan's Nest, though.  There is one more Baxter brother, who currently lives in Wales.  However, Mike is clear that he would want to follow his siblings and parents should he choose to come back to Norfolk.  "If he moved this way, I'm sure he would join us at Swan's Nest," he said.
Anyone interested in a home on the final phase of Swan's Nest can find more details by visiting www.abelhomes.co.uk/developments/swans-nest-swaffham.