Local House Builder Seeking Norfolk Artist For New Commission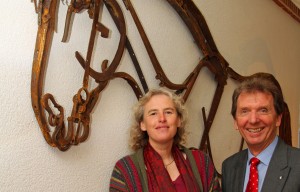 Norfolk artists are being invited to bid for a £5,000 commission to produce a piece of public art to be situated on a development of new family homes in Watton – the latest in a series of such artwork commissions made by a Norfolk house builder.
Watton-based Abel Homes is seeking local artists to create the artwork for its Hare's Green site at Watton, where it is building 98 new energy-efficient family homes.  The commission is part of the firm's ongoing public art programme, which has already seen nine pieces of public art installed in the county, all made by Norfolk artists.
The brief to local artists is to come up with ideas for a public artwork themed around hares, reflecting the site's name 'Hare's Green' and the hare shown jumping over a barrel on the town sign ('wat' was the local dialect name for hare, and 'ton' or 'tun' a barrel).
"When we build new homes, we are creating communities as well," said Maggie Abel of Abel Homes.  "We hope that these public artworks will form the hub of these new communities, starting to bind the threads together through sparking conversations and giving a sense of shared ownership – as well as a focal point to stop and chat.
"As a local company, this is also a chance to support our local artistic community, which is why we are seeking a Norfolk-based artist to undertake this latest commission."
The new artwork will be positioned on a piece of public open space on the new development, which is situated off Blenheim Way, just north of Norwich Road in the town.
Artists interested in finding out more about the new commission can obtain a copy of the brief from Maggie Abel by calling Abel Homes on 01953 884486, or by emailing maggie@abelhomes.co.uk.
In 2007 Abel Homes committed to commissioning a new piece of public artwork for each of the sites on which it builds new homes.  So far nine such commissions have been unveiled, including a life-sized shire horse collage made from found materials by renowned wildlife artist Harriet Mead at the firm's hus46 site, also in Watton.  Other artworks have been installed in Drayton and Old Catton in Norwich, Shipdham, Hingham, Little Melton and Swaffham.