Local House Builder Steps In To Help School Replace Vandalised Willow Grove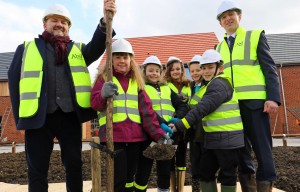 A Norfolk-based house builder has stepped in to help a village primary school to replant 200 willow saplings after the original trees were uprooted by vandals just days after being planted by children at the school.
Abel Homes, which is based in Watton, stepped in to make the offer to Mattishall Primary School, which is situated next door to where the family firm is building 35 new family homes in the village.
To mark the partnership, the house builder invited a group of children from the school to plant a walnut tree on the site of the new homes, which has been given the name 'Walnut Tree Fields'.
Every child at the school planted a willow shoot in January in a project to support local wildlife, but all of the trees, along with a large protective membrane, were pulled from the ground over the first weekend in February.
Chris Abel of Abel Homes said, "Like everyone, we were shocked and saddened at the mindless vandalism which saw all the hard work of the children undone.  So we have offered to pay for replacing the trees and the membrane, and we will offer practical help to try and make the new planting more secure."
Mattishall Primary School head teacher Tony Chapman said, "The willow tree planting was a long time in the planning, and we were all shocked and upset by the act of sheer vandalism.
"However, the reaction from the local community has been heartening, and we are very grateful to Abel Homes for offering to pay for the damage and help us replant the willow grove."
"No doubt before long children living in the new homes that Abels are building in the village will be attending the school, and we look forward to giving them a warm welcome."
Abel Homes are building 21 private and 14 affordable homes on the 4.4 acre site, which adjoins the school playing field.  The new development comprises a mixture of one-, two-, three- four- and five-bedroom houses and bungalows, all of which will have the top 'A' rating for energy efficiency.
As part of the development, Abel Homes will create a public open space on the site, and as it does on every site where it builds new homes, will be commissioning a piece of public artwork from a local artist to be placed on the site.
Walnut Tree Fields in Mattishall launches on Saturday 10th March.