New Homes Site At Swaffham Is A Real Family Affair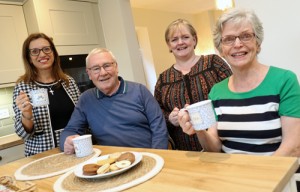 A development of new homes in Swaffham has once again become a real family affair, after a retired couple and their accountant daughter both bought new homes on the same site.
Accountant Tara Phillips has just received the keys to her new detached three-bedroom house at Abel Homes' Swan's Nest development in the town – joining parents Tim and Irene O'Sullivan, who moved into their own three-bedroom house just around the corner before Christmas.
The family decided to relocate to Norfolk to be closer to Tim and Irene's son Phil, who moved from Essex to Methwold last year.
Now retired, Tim worked as a fitted bedroom and kitchen installer, and so had much experience of new homes – and he says that once he had seen the homes being built by Abel Homes, there was no question they would buy one.
"I have done plenty of work for house builders during my career, and I have seen the variable quality of what is being built," says Tim, who retired during lockdown.  "I hadn't heard of Abel Homes, but once we had seen the quality of the houses they build, there was never any doubt we were going to move into one.
"We absolutely love our new home.  It is much more spacious than we expected, it is really well built, and the service we have had from Abel Homes has been really excellent."
So enthused were Tim and Irene with Swan's Nest, that it wasn't hard to persuade daughter Tara to follow their lead and buy a home on the site.
"Having lived in a 1950s timber framed house, I definitely wanted a new home this time round," says Tara.  "Mum and dad were so positive about the new homes being built here at Swan's Nest, and once I had seen this house, I was more than convinced."
This is not the first time that multiple members of the same family have bought homes together at Swan's Nest.  In March last year Mike Baxter and his partner Alison Clarke moved into their new home at the site – the fourth member of his family to do so.
Clare Cornish, sales manager at Abel Homes, said, "Swan's Nest has developed into such a strong community, and it is lovely to see it become a place where families want to live close to each other.
"We try and create communities of new homes where people will want to live, and for Tim, Irene and Tara, we have once again succeeded."
More details of Abel Homes' Swan's Nest site can be found at www.abelhomes.co.uk/developments/swans-nest-swaffham.