New Public Artwork Unveiled In Hingham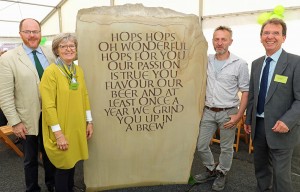 A new piece of public artwork by a Norfolk artist has been unveiled in Hingham – a gift from a locally-based house builder which has been described by a Norfolk MP as 'the most popular developer in the county'.
Mid Norfolk MP George Freeman unveiled two standing stones made from York stone and carved by Norfolk stonemason Teucer Wilson at a ceremony attended by residents of The Hops, a new development of 88 family homes in the village.
The artwork reflects the brewing heritage of the land on which the new homes have been built, with one stone, standing two metres high, inscribed with the first stanza of the poem 'Hops, oh wonderful hops', and the other stone sculpted into a metre-high hop.
The work is the latest in a series of public artworks commissioned by Abel Homes, which in 2008 committed to creating a public artwork by a local artist at each of the sites where it builds new homes.
Unveiling the stones, Mr Freeman said that art should be at the heart of the community, and praised Abel Homes for the approach it takes to development.
"To be really successful in development in any locality you need to understand the place, love the place and be committed to the place," he said.  "You are here and of us, and build for us, and we need more of that in the county.
"Everybody wants to live in a vibrant village with a real community.  The key to that, when it comes to building new homes, is quality; if we build junk, people won't want to come here.
"Thank you for flying the flag as a family firm.  You are building homes for families and communities.  Abel Homes is the most popular developer in the county."
Welcoming the residents to their new community, Abel Homes chairman Tony Abel said, "Hingham, is very close to my heart.  My family have a close connection to the village, going right back to my great great grandfather, who was a gardener at Hingham Hall, all the way through to my parents, who were married in the church.
"The first new homes we built as a company were here in Hingham and we are delighted to be building much-needed new homes in the village once again.
"Ten years ago we made a commitment that we would commission a local artist to make a piece of public artwork at every site where we build new homes.  The idea was to create a modern-day 'village sign', something which can give the new community a sense of identity and act as a centrepiece.
"The first of these public artworks was commissioned for Gardeners Green here in Hingham, and was unveiled in June 2009; this is the eighth such public artwork we have unveiled since then."
The stones were made by Norfolk stonemason Teucer Wilson, who came to Norfolk in 2000 after serving a five year apprenticeship at a leading stone carver in London.  He has completed a number of high-profile commissions, including at the Norfolk & Norwich University Hospital and the RAF Bircham Newton War Memorial.
Abel Homes is building 88 new family homes off Norwich road in Hingham, on land which was once owned by 19th century brewing magnate Charles Crawshay, of Youngs, Crawshay and Youngs fame.
The poem inscribed on the larger of the two stones is as follows:
Hops, hops, oh wonderful hops
For you our passion is true
You flavour our beer
And at least once a year
We grind you up in a brew