New Public Artwork Unveiled In Swaffham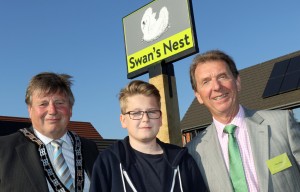 A new piece of public artwork designed by two Swaffham school students has been unveiled in the town – a gift from a Norfolk-based house builder.
Nicholas Hamond Academy Year 10 students Elliot Clark and Jess Drake won a competition run by Watton-based Abel Homes to create the artwork to be installed at Swan's Nest, a community of new homes which the firm is building on the southern edge of the town.
The pair came up with the idea of a modern village sign, and the new artwork features both of their designs on either side of the new artwork.
The sign was unveiled at a ceremony by one of the young artists, Elliot Clark, helped by Abel Homes chairman Tony Abel and Cllr Colin Houghton of Swaffham Town Council, and watched by around one hundred residents of the new community.
In 2010 Abel Homes made a commitment to commission a piece of public artwork from local artists on each of the sites on which it builds new homes.  The sign at Swan's Nest is the seventh such piece of public art to be unveiled since then – and now the firm is seeking artists for their eighth commission, at Hingham.
"When we put out the call for local artists to come up with ideas for this commission, we invited students at the Nicholas Hamond Academy – which is very close to Swan's Nest – to take part in the competition.
"We received some really excellent submissions, but Jess and Elliot both really grasped what this is all about – creating a focal point for the new community."
The new village sign is the second piece of public artwork to be unveiled by Abel Homes in Swaffham: in 2011 a nautically-themed bench, made by artists at the Holkham Forge, was placed at the firm's development on Admiral Wilson Way.
Abel Homes is building 250 new family homes at Swan's Nest.  The new homes are highly sustainable, with a top 'A' rating for energy efficiency.
Local artists interested in bidding for the new commission at Abel Homes' Hingham Site can contact Maggie Abel at maggie@abelhomes.co.uk for a full brief.