Nicholas Hamond Students Win Competition For Professional Art Commission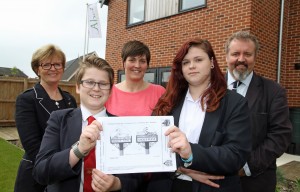 Two Year 9 students from Swaffham have been awarded a £5,000 commission to produce a piece of community art – after winning an open competition to design the piece, which will be installed amongst a community of new homes being built on the southern edge of the town.
14-year-olds Jess Drake and Elliot Clark, both students at the nearby Nicholas Hamond Academy, submitted designs based around a village sign – and now their two ideas are to be combined to create a brand new double-sided sign.
The pair are to see their ideas turned into a permanent addition to the local environment, with the sign to be built by Great Hockham-based craftsman Harry Stebbings.
The artwork is being commissioned by local house builder Abel Homes, which is building 82 new homes off Brandon Road in the town.  The firm has commissioned a piece of public artwork from a local artist for all of the sites where it has built new homes since 2010.
Both Jess and Elliot's submissions incorporated swans into their designs, reflecting the name of the site, Swan's Nest.
Maggie Abel of Abel Homes, who along with Breckland Council planning committee chair Nigel Wilkin and Swan's Nest resident Penny Rolfe made up the judging panel, said, "We received some really excellent submissions for the commission, but Jess and Elliot both really grasped what this is all about – creating a focal point for the new community.
"We are delighted that we were able to come up with the idea of a double-sided village sign, so that both of their designs can be incorporated into the final piece."
Nicholas Hamond vice-principal Michelle Russell, who visited the site with the two students to receive the news that they had won the commission, added, "I am extremely proud of our students.  The fact that they have won a professional commission is testament to their creativity and hard work, as well as the work done by our Art department at the Academy.
"Jess and Elliot are looking forward to working with Harry Stebbings to make the sign, and to seeing their designs installed in a piece of artwork which will be there for everyone to see for many years to come."
The artwork will be installed on a public open space at the site, with an unveiling planned for the autumn.
The new homes at Swan's Nest, which are all 'A' rated for energy efficiency, were launched in April last year.