Nine Metre 'NDR' Bench Unveiled At New Taverham Community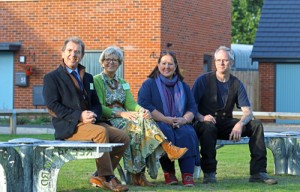 A nine metre long bench representing a section of Norwich's Northern Distributor Road has been unveiled in Taverham – the latest in a Norfolk house builder's programme of commissioning public artwork from Norfolk artists.
The bench, which was made at Fransham Forge by master blacksmith Nigel Barnett, has been placed at Taursham Park, Abel Homes' development of 93 family homes in the village, just north of Norwich.
The bench was unveiled by Tony and Maggie Abel of Abel Homes, along with chair of Taverham Parish Council and Broadland Councillor Caroline Karimi-Ghovanlou, at a special event attended by residents of the new homes.
Abel Homes commissioned the artwork as part of its ongoing public art programme, which sees a new piece of art commissioned from a local artist at each of the sites where it builds new homes.
The bench is the fourteenth piece of public artwork to be commissioned by the house builder since it announced the project in 2008.  Positioned on a large piece of public open space in front of the new development, the galvanised steel sculpture is made in the shape of the Northern Distributor Road between the Reepham Road and Fakenham Road junctions – the stretch closest to the new houses.
The nine metre long construction weighs in at 1.2 tonnes, and was made through a complex set of processes at the Fransham Forge workshop, before being transported to Taverham and placed in situ.
Addressing the assembled residents at the unveiling ceremony, Abel Homes chairman Tony Abel said, "When we build new homes, we try very hard to create real communities, and our public artwork programme is designed to provide a focal point for those communities, a place where residents can meet and chat.
"The whole point of commissioning these public artworks is to help to start to bind the threads of each new community together, through sparking conversations and giving a sense of shared ownership.  Our hope is that this bench will become a focal point for residents here."
Alongside the new homes, Abel Homes has also created a large woodland area with a woodland walk on the site, as well as two public open spaces, one of which will be provided with play equipment.