Norfolk Construction Site Manager Carries Off Prestigious NHBC 'Seal Of Excellence' Award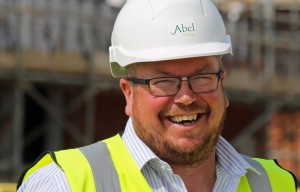 A construction site manager from a Norfolk-based house builder has been recognised as being at the top of his profession, after winning a prestigious 'Seal of Excellence' Award from the National House Builders Confederation (NHBC).
Tim Walsingham, who is senior site manager at Abel Homes' Swan's Nest site in Swaffham, received the award at a ceremony in Leicester.  It is the second time he has received the accolade, having previously won in 2009.
The Seal of Excellence Award is the second stage in the process to find Britain's best site manager.  Winners are chosen from those who have been awarded the 'Pride in the Job' Award;  Mr Walsingham has received that award three times.  His colleague Danny Pinner, who manages the firm's Walnut Tree Fields site at Mattishall, also received a Pride in the Job Award this year.
The NHBC awards are given following a 'Michelin Guide' style inspection by an NHBC inspector, who assesses site managers against 38 strict criteria, including workmanship, excellent leadership skills, technical expertise, the ability to turn the designer's intentions into reality, good health and safety standards and a commitment to raising standards.
Abel Homes chairman Tony Abel said, "We are immensely proud of Tim's achievement.  Few site managers receive a Seal of Excellence Award, and to have been recognised this way twice in a career is an exceptional accomplishment.
"The NHBC awards reflect exceptional performance on site, which is the backbone of our philosophy as a local house builder.  It is a reflection of the efforts we put in to all of our developments to ensure that we are producing the very highest quality new homes in Norfolk".
More details about the NHBC Awards can be found at http://www.nhbc.co.uk/AwardsandEvents/Pride-in-the-job/; more details about Abel Homes can be found at www.abelhomes.co.uk.