Norfolk House Builder Passes Significant Fundraising Milestone For Nook Appeal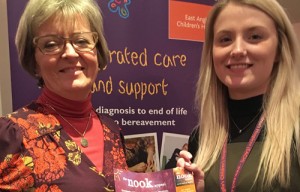 A Norfolk family firm which three years ago pledged to raise £25,000 towards the appeal to build a new children's hospice in the county has passed another fundraising milestone - with the news that staff activity and company donations have pushed the amount raised through the £40,000 barrier.
Watton-based house builder Abel Homes was an early supporter of the Nook Appeal, which is aiming to raise £10 million to transform children's palliative care across Norfolk, including a purpose-built hospice at Framingham Earl, just south of Norwich.  Construction work is well advanced on the new building, which is due to open next year.
A combination of staff fundraising through a variety of activities and company donations has seen the initial £25,000 pledge grow into a £40,000 donation.
Abel Homes director Maggie Abel, who was amongst the first Norfolk business people to commit to supporting the Nook Appeal when it was launched, commented, "The Nook Appeal is about enabling EACH to do so much more for local young people with life-threatening illnesses, and support their families. 
"It is a cause which has touched the hearts of so many people in the county, and I am so proud of the efforts of our staff who have done so much to raise money, and of our clients, suppliers, partners and supporters who have helped us reach this significant milestone."
Nook Appeal corporate fundraiser Sophie Mayes said, "Abel Homes has supported the nook appeal since it was launched.  Not only have they fulfilled their initial pledge to raise £25,000, but they have continued working hard to support the appeal. 
"We are so grateful to all those who have undertaken fundraising activity, and to the company itself which has 'match-funded' their fundraising efforts."