Norfolk House Builder Reports 'Exceptional Demand' For New Homes Post-Lockdown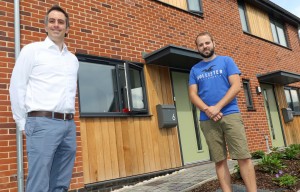 A Norfolk-based house builder has reported 'exceptional demand' for new homes since re-opening its sales offices as lockdown eased – something it says is positive news for local employment and hopefully an encouraging sign for Norfolk's economy.
Abel Homes, which is currently building in Swaffham, Watton, Bawdeswell, Taverham and Gressenhall, reopened its sales offices in May following the relaxation of Government guidelines, and has reported strong demand on all its sites, with sales agreed prior to lockdown proceeding, and a high number of new reservations.
"We have seen exceptional demand for new homes in the last month," said managing director Paul LeGrice.  "We were inevitably cautious when reopening our sales offices that lockdown may have dampened people's appetite for moving, but it seems to have done the opposite.
"We are seeing customers looking for additional space, both inside and outside, together with the advantages of a new home including fibre to the premises at the top of their wish list.  We are also seeing a large number of first-time buyers who have spent lockdown in shared rented accommodation or living with their parents, and who now want a space they can call their own.
"After restarting construction cautiously in May, we are now beginning to increase our production capacity towards pre-lockdown levels whilst maintaining compliance with Covid-19 precautions and social distancing, which is good news for employment, both for our own staff and for the many local contractors we partner with – and creating and maintaining those jobs is vital for the wider local economy."
One of the first buyers to complete their house purchase post-lockdown was 26 year-old Ben Nurse, who has bought a three-bedroomed semi-detached house at Abel Homes' Swan's Nest site in Swaffham.
First-time buyer Mr Nurse was just a week away from moving into his new home when lockdown was imposed, and instead spent the ensuing ten weeks in shared rented accommodation in the town.
"It's so nice to finally have a place of my own after three years in shared rented accommodation, including all through lockdown," said Mr Nurse, who works as in construction site management.
"I have been on furlough, so it was frustrating not being able to move, so when the sales offices opened up again, I was keen to get in as soon as possible – and Abel Homes really went the extra mile to ensure I could move in quickly."