Norfolk House Builder Smashes Fundraising Target And Hands Over £30,000 Cheque To Nook Appeal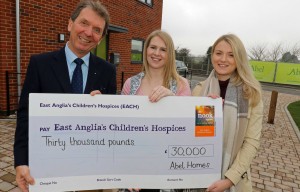 A Norfolk-based house builder has smashed its own fundraising target and handed over a cheque for £30,000 to The Nook Appeal.
In 2015 Abel Homes pledged to raise £25,000 within three years, and a combination of staff fundraising and company donations has already pushed the total raised beyond that initial target.
The Nook Appeal is aiming to raise £10 million to transform children's palliative care across Norfolk, including a purpose-built hospice at Framingham Earl, just south of Norwich.  Construction work has already begun on the new building, which is due to open in the summer of 2019.
Abel Homes chairman, Tony Abel, who made the fundraising pledge when the Appeal was launched, said, "I am so proud of our team who have worked hard to raise an amazing amount of money, which the company has 'match-funded', for such a worthy cause.  I would also like to thank all our clients, suppliers, partners and supporters who have helped us reach this milestone.
"The new hospice will enable EACH to do so much more for local young people with life-threatening illnesses – and support for their families."
Receiving the cheque, Nook Appeal corporate fundraiser Sophie Mayes said, "We are so excited to celebrate Abel Home's £30,000 fundraising milestone for EACH.  Abel Homes has supported the nook appeal since our launch in 2014, and through lots of fantastic events and fundraising they've now reached an incredible £30,000!
"We are so grateful to everyone at Abel for all their support and are honoured to see their logo featured in our latest Footprints supporter newsletter!"