Norfolk Postal Worker Set To Deliver Stunning Wooden Street Sign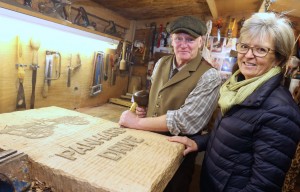 A former Norfolk postman is set to make an unusual delivery in Gressenhall later this year, after he was commissioned to create a new piece of public art for the village.
Keen amateur wood-carver Carl Preston, who now works at the Norwich sorting office, has received the commission from Norfolk-based house builder Abel Homes – the second time the family firm has asked the keen woodcarver to produce a bas-relief sign for one of its developments in the county.
The latest commission will see a 3 foot by 2 foot carved sign made for the newly-created Panhard Close in the village, where Abel Homes is building five spacious family homes.
The sign will also feature a carving of an 1899 Panhard car, which is believed to be the oldest working car in the county.  The vehicle is currently housed at the nearby Gressenhall Museum of Norfolk Life.
Mr Preston first started carving wood when he met his wife Valerie more than 30 years ago.  Stuck for ideas about what to get her for Christmas, he decided to make a cat out of a piece of wood.  Since then, he has branched out in his hobby, working in metal as well as wood, making things ranging from jewellery to weathervanes.  He creates the pieces in his shed-workshop at his home in Scarning.
His first professional commission came in 2014 when Abel Homes approached him to make a carved sign for their Oak Meadow development in Shipdham.  Now the Watton-based firm has asked Mr Preston to create the new sign for its Gressenhall site.
In 2008 Abel Homes made a commitment to commission a piece of public artwork from a local artist for each of the sites where it builds new homes, and this will be the twelfth such commission since then.
"The idea of these public artworks is to create a modern-day 'village sign', a focal point which can give the new community a sense of identity and act as its centrepiece," said Abel Homes director Maggie Abel, who co-ordinates the firm's art initiative.
"We loved Carl's carving at Shipdham, and have always wanted to come back to him for a second piece, and the site at Gressenhall is ideal."
The artwork will be unveiled at a ceremony for residents of the new homes and local people later in the year.
Abel Homes is building three four-bedroom houses and two four-bedroom bungalows on the two acre site, with each new home standing on unusually large plots.  The new site has been given the name 'Five', to reflect the small-scale nature of the development.  Just two of the new homes are still available for sale.  For more details, see our development page.