Norfolk Property Sales Manager To Tackle London Marathon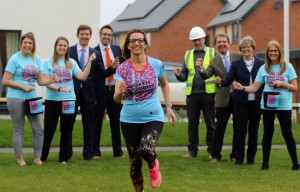 The sales manager at a Norfolk house builder is preparing for one of her biggest ever challenges, as she takes on the London Marathon next month.
Clare Cornish will be taking on her first marathon on the streets of the capital on 28th April, raising money for Dementia Revolution, a joint campaign created by the Alzheimer's Society and Alzheimer's Research UK to power ground-breaking research at the UK Dementia Research Institute.
Clare, whose longest run to date has been a half marathon, is aiming to raise £5,000 for the campaign, which has been named Charity of the Year for the 2019 Virgin Money London Marathon.
Clare's grandmother suffered for many years from dementia, and three years ago her father was diagnosed with the condition.
"I am one of the '1 in 3' affected by dementia; sadly, my father is slowly being taken away from us," she said.  "Dementia is the biggest health threat facing society today, and currently there are no effective treatments to slow, prevent or cure it.  Dementia Revolution is leading the charge towards a cure.  If we do nothing, nothing will change."
Despite fighting injury during her training, Clare is aiming to break the five hour mark at the event, where she will be one of around 40,000 runners tackling the 26.2 mile course from Greenwich to The Mall.
Anyone wanting to sponsor Clare can do so by visiting https://uk.virginmoneygiving.com/clarecornish.