Norfolk Site Manager Named Best In Region In Prestigious Housing Awards For Fourth Year Running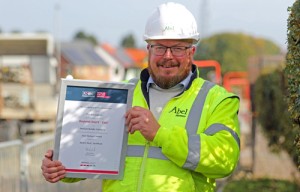 A construction site manager from a Norfolk-based house builder has been named as the best site manager in all of East Anglia and the East Midlands for the fourth year running, by the National House Builders Confederation (NHBC).
Tim Walsingham, who is senior site manager at Abel Homes' Swan's Nest site in Swaffham, was once again named Best Regional Site Manager in the medium-sized builder category – and now goes forward to the national finals, where he could be named the UK's best site manager.
Mr Walsingham was also awarded a prestigious 'Seal of Excellence' Award - the sixth time he has received that accolade, having previously won in 2009, 2018, 2019, 2020 and 2021.  In June it was announced that he had won his sixth 'Pride in the Job' award.
Abel Homes managing director Paul LeGrice said, "To be named the best site manager four years in a row in a massive region which stretches from Derbyshire all the way to the outskirts of London is a huge achievement, and we are immensely proud of Tim.
"We have known for a very long time that Tim is an exceptional site manager, and we are delighted that his hard work and dedication has once again been recognised in such a public and prestigious way.
"The NHBC awards reflect exceptional performance on site, which is the backbone of our philosophy as a local house builder.  It is a reflection of the efforts we put into all of our developments to ensure that we are producing the very highest quality new homes in Norfolk".
The NHBC awards are given following a 'Michelin Guide' style inspection by an NHBC inspector, who assesses site managers against 38 strict criteria, including workmanship, excellent leadership skills, technical expertise, the ability to turn the designer's intentions into reality, good health and safety standards and a commitment to raising standards.
Mr Walsingham joined Abel Homes in 1999 as a digger driver, progressing to his current position as senior site manager.