Abel Homes Site Manager Wins Prestigious 'Pride In The Job' Award For The Seventh Consecutive Year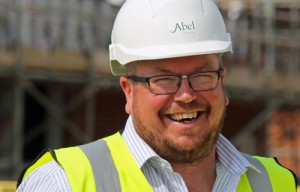 A construction site manager from a Norfolk-based house builder has been recognised as amongst the best in the UK, winning a prestigious 'Pride in the Job' Award from the National House Builders Confederation (NHBC) for the eight time – and the seventh year in succession.
Tim Walsingham, who is senior site manager for Abel Homes' Swan's Nest site in Swaffham, will now go forward to the NHBC's 'Seal of Excellence' Award - an accolade which he has also won for the last five years in a row.
For the past four years he has been named Best Regional Site Manager in the medium-sized builder category for East Anglia and the East Midlands, and been runner-up for the national title.
Mr Walsingham, from Yaxham, joined Abel Homes in 1999 as a digger driver; he is currently in charge of a site where 427 new homes are being built. 
Abel Homes managing director Paul LeGrice said, "We are immensely proud of Tim, who over the past ten years has established himself as one of the very best site managers in Britain. 
"The fact that he has achieved this having joined as a digger driver is credit to his hard work, enthusiasm and great attitude.
"The quality of our site managers is such an important factor in delivering the highest standards at all our new home developments, and reflects a genuine customer service ethos which is part of everything we do."
The Pride in the Job Award is given following a 'Michelin Guide' style inspection by a NHBC inspector, who assess site managers against 38 strict criteria, including workmanship, excellent leadership skills, technical expertise, the ability to turn the designer's intentions into reality, good health & safety standards and a commitment to raising standards.  The scheme has been running for more than 40 years.
More details about the NHBC Pride in the Job Awards can be found at www.nhbc.co.uk/awards-and-events/pride-in-the-job/2023-awards.  More details about Abel Homes can be found at www.abelhomes.co.uk.