Norfolk Village Children Get To Play Outside Safely Thanks To Local House Builder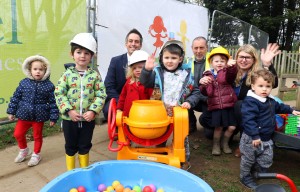 Children at a Norfolk village pre-school can play outdoors safely, after their new outside play area was secured following a donation of fencing by a local house builder.
Carbrooke Pre-School recently moved into new accommodation in a mobile building in the grounds of the village's primary school – but although the new location boasted a large play area, safeguarding rules meant that in order to use it, a secure fence had to be erected around it.
Watton-based house builder Abel Homes, which had already lent some site fencing to the playgroup while work was being done at its previous village hall location, agreed to donate that fencing for use at the new site – and installed it to make the play area safe.
"Outdoor play is so important, and our new location has a really nice, large outside play area," said Gabbi Bone, manager of Carbrooke Pre-School.  "But Ofsted safeguarding rules say that such an area has to be safely fenced off, and without a secure fence, we would not have been able to allow the children outside to play.
"Abel Homes had already kindly lent us some fencing for use at the village hall, and we were thrilled when they said we could keep it for our new play area."
Visiting the new play area, Abel Homes managing director Paul LeGrice, who himself became a father for the first time last year, said, "As a family firm, we were delighted to respond to the appeal to borrow some fencing from the playgroup, and when it became clear that their need was more than temporary, we were pleased to donate the fencing to allow the children to play outside."
Carbrooke Pre-School is run by a committee of volunteers and employs local staff.  Its aim is to provide a secure, warm and stimulating environment where children between the ages of two and five can meet, have fun and learn through play.