North Norfolk Artists Commissioned To Create Chaucer-Themed Bench For Bawdeswell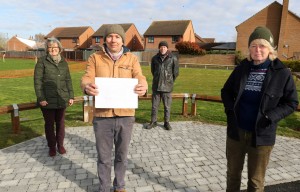 The village of Bawdeswell is to be the site of a stunning new stone and metal bench, complete with a carving of a Chaucer quote referencing the village – after a group of North Norfolk artists won a commission to create a piece of public artwork on the site of 40 new family homes in the village.
Abel Homes has commissioned the Holkham Forge Partnership to produce the artwork following a competition to design a piece of public artwork to be placed at the firm's Bluebell Rise site, situated off Hall Road behind the Bawdeswell Garden Centre.
The commission is part of Abel Homes' ongoing public art programme, which has already seen ten pieces of public art installed in the county, all made by Norfolk artists – with a further two currently being created.
The bench, which will be positioned on a large piece of public open space which forms part of the new development, will consist of a large piece of Kilkenny limestone, supported by four galvanised steel legs, and with a flowing metal back.
The stone will be inscribed with a quote from The Reeve's Tale from Chaucer's Canterbury Tales.  The Reeve, Osewald, hailed from the village.  The quote reads: 'Of Northfolk was this reeve of which I telle.  Byside a toun men callen Baldeswelle'.
The stone will be carved by stone carver Nina Bilbey, whose studio is situated at Holkham Forge.  The metalwork will be made by James Spedding and Roger Foyster from the Forge.  Its design evokes a calligraphic style inspired by the ancient text, and the metal will be etched with a silvery-pewter ribbon pattern.
Maggie Abel of Abel Homes said, "This is the fourth time we have worked with the Holkham Forge Partnership; they have created pieces for sites in Swaffham and Little Melton, and are currently working on a six-foot metal dancing hare sculpture for our site at Watton Green.
"The new bench will be both a stunning piece of artwork, a symbiotic collaboration of stone and steel.  It will be a place where residents can meet and chat, a focal point for this new community.
"These public artworks have been successful in starting to bind the threads of new community together, through sparking conversations and giving a sense of shared ownership.
"As a locally-based company, it is important for us to support the county's artistic community, which is why once again we have commissioned a group of Norfolk artists to create our latest artwork."
The bench will be unveiled in the summer.
In 2007 Abel Homes committed to commissioning a new piece of public artwork for each of the sites on which it builds new homes.  So far ten such commissions have been unveiled, including a life-sized shire horse collage made from found materials by renowned wildlife artist Harriet Mead at the firm's hus46 site, also in Watton. 
Other artworks have been installed in Drayton and Old Catton in Norwich, Shipdham, Hingham, Little Melton, Swaffham and Mattishall.  Two further pieces of artwork are currently being made for sites in Watton and Gressenhall.