Seven New Three- And Four-Bedroom Homes Released In Swaffham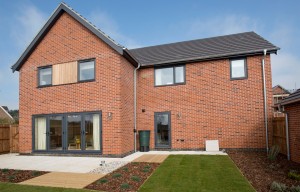 Norfolk house builder Abel Homes has released seven three- and four-bedroom homes at its Swan's Nest site in Swaffham – where more than half of the first phase of 82 new homes have already been sold, just ten months after the site was launched.
The Watton-based family firm has released five 4-bedroom and two 3-bedroom energy-efficient family homes, bringing to 57 the number of new homes released for sale since march last year.
All of the new homes on the site boast an EPC rating of 'A' – the most energy-efficient rating possible – and also feature fibre optic cabling to the door, enabling the installation of a range of 'smart home' features.
Prices for the new homes range from £200,000 for the three-bedroom houses to £340,000 for the larger of the four-bedroom houses.
"The Swan's Nest site in Swaffham has proven to be extremely popular, and we are working at full capacity to build new homes to meet demand," said Abel Homes managing director Tony Abel.
"The success of the site suggests that we are creating the kind of homes people want to live in here in Swaffham, with contemporary design and generous room sizes alongside the energy-efficient and technological benefits.
"As a local firm, using local contractors, we are proud to be building quality family homes in Swaffham, a town with which my family has links going back many years."
More details about the newly-released home (plots 64-65 and 76-80), plus four previously-released plots which are still available, can be found at www.abelhomes.co.uk.