Stunning New Stone And Metal Bench Unveiled At New Bawdeswell Community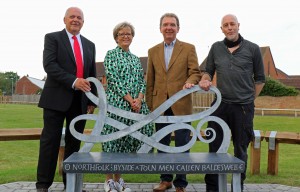 Residents at a new community in Bawdeswell will be able to take a break on a stunning new stone and metal bench, complete with a carving of a Chaucer quote referencing the village, after a new public artwork was unveiled to celebrate the completion of the new development.
Abel Homes commissioned the artwork from the Holkham Forge Partnership as part of its ongoing public art programme, which sees a new piece of art commissioned from a local artist at each of the sites where it builds new homes.
It was unveiled by Maggie Abel of Abel Homes and Bawdeswell Parish Council chairman Bill Cunliffe in front of residents of Bluebell Rise, the new community of 40 family homes in the village.
The bench is the thirteenth piece of public artwork to be commissioned by the house builder since it announced the project in 2008.  Positioned on a large piece of public open space which forms part of the new development, it consists of a large piece of Kilkenny limestone supported by four galvanised steel legs, with a flowing metal back.
The stone is inscribed with a quote from The Reeve's Tale from Chaucer's Canterbury Tales.  The Reeve, Osewald, hailed from the village.  The quote reads: 'Of Northfolk was this reeve of which I telle.  Byside a toun men callen Baldeswelle'.
The stone was carved by stone carver Nina Bilbey, whose studio is situated at Holkham Forge.  The metalwork was made by James Spedding and Roger Foyster from the Forge.  Its design evokes a calligraphic style inspired by the ancient text, with the metal etched with a silvery-pewter ribbon pattern.
Addressing the assembled residents at the ceremony, Abel Homes chairman Tony Abel said, "This new bench is a stunning piece of artwork, and is also a place where residents can meet and chat, a focal point for this new community.
"The whole point of commissioning these public artworks is to help to start to bind the threads of each new community together, through sparking conversations and giving a sense of shared ownership.  Our hope is that this bench will become a focal point for residents here.
"This is the fourth time we have collaborated with the Holkham Forge Partnership, after they created pieces for sites in Swaffham, Little Melton and Watton.  We are delighted once again to be able to showcase the tremendous artistic and artisanal talent which we enjoy in Norfolk."