Swaffham Couple Notch Up Their Fourth Home From The Same Norfolk House Builder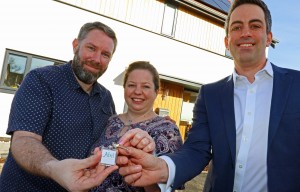 A Swaffham couple have been named the most loyal customers of a Norfolk house builder – after living in four homes between built by the family firm.
Jonathan Beedell and his fiancée Katja Galea, together with children Grace (8) and Daniel (6), have just moved into a brand new four bedroom house built by Abel Homes at their Swan's Nest site on the southern edge of the town.
The home is the third which Jonathan has bought from the firm, with Katja previously also having rented an Abel home.
Jonathan, initially bought a two bedroom house off Admiral Wilson Way in the north of Swaffham in 2011, before upgrading to one of the first three bedroom homes to be built at Swan's Nest.
Meanwhile Katja, a primary school teacher, rented her first Abel Home at Admiral Wilson Way in 2015.  After meeting online, the couple, who are getting married in September, eventually decided to trade up to a four bedroom house just a little way down the road from Jonathan's second Abel Home.
"It was an easy choice to make to buy another Abel Home," said Jonathan.  "The quality and the finish is first-class, we knew exactly what we were going to get, and also the service we were going to get."
Handing over the keys to their new home, Abel Homes managing director Paul LeGrice added, "If the definition of a happy customer is one who keeps coming back, then we can assume that both Jonathan and Katja are very satisfied with their experience of living in our new homes.
"It's not unusual for us to sell a house to someone who has lived in one of our homes before, but to have bought a total of three Abel Homes, and lived in four, between them makes Jonathan and Katja our most loyal customers yet."
Abel Homes is building 250 new family homes at Swan's Nest in Swaffham  The new homes are highly sustainable, with a top 'A' rating for energy efficiency.  For more details, visit www.abelhomes.co.uk.