Swaffham Visual Arts Festival Announces New Patron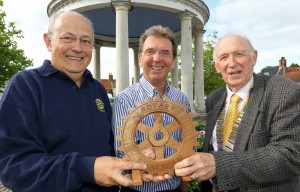 A local businessman with strong family links to Swaffham is to succeed Baroness Shephard of Northwold as the Patron of the town's Visual Arts Festival.
Tony Abel will become the new Patron of the Festival, organised each October by the Swaffham Rotary Club.  His company Abel Homes is once again to be principal sponsor of the month-long celebration of Art in West Norfolk.
A major theme of the 2017 Festival will be 'Art in the Theatre', with the Festival partnering with the West Acre Theatre in its reprise of 'ART', Christopher Hampton's translation of Yasmina Reza's thought-provoking comedy, winner of both Olivier and Tony awards.
The climax of the festival will be the three-day selling exhibition in the Swaffham Assembly Rooms of works of art and craft.  Running from Friday 27th to Sunday 29th October, the exhibition will feature up to 50 artists, with around 300 art works for sale, as well as a range of ceramics, glass, jewellery and woodturning by local craftspeople.
"We are delighted to welcome Tony Abel as our new patron," said Rotary Club president David Morris.  "Tony and his wife Maggie are keen supporters of the Festival, and Abel Homes has been a generous sponsor over the past five years."
"As well as providing financial support to make the Festival possible, Tony, his family and his company have provided marketing expertise and help in kind, enabling us to grow the Festival over the years, and raise more money for good causes.  Since inaugurating the Festival we have been able to distribute nearly £30,000 to charities supported by the Rotary Club."
Tony Abel commented, "We are a family firm, and my family has been part of the community in Swaffham for many, many years.  We have been delighted to help Rotary develop the Festival, and to continue our support.  I am honoured to be invited to be the Festival Patron, and I look forward to Swaffham once again being put on the artistic map in October."
The Festival's organisers have three stated aims:
Celebrating the wealth of visual art activity in Swaffham and its surrounding area
Providing a promotional service to artists in West Norfolk
Raising money for (mainly) local charitable causes
In the past the Festival has included art history, architecture, film, photography, fashion, textiles, automobile design, ceramics and garden design in its programme, as well as artist masterclasses and demonstrations.
2017 will be the eighth year that the Festival has taken place in its present form.  In 2010 The Rotary Club of Swaffham added a programme of events to the annual art exhibition which it had been running for the previous 15 years.
The 2017 Swaffham Visual Arts Festival runs throughout October.  The full programme will be announced next month.  More details at www.swaffhamvisualartfestival.co.uk.