Taking Pride In The Job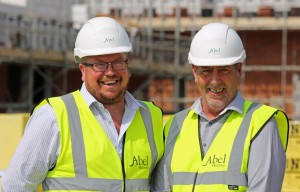 Those who know me will know that I am an enthusiastic private pilot, and one of the most useful mantras when you are in the air is this: the best way to have a successful landing is to fly a good approach, writes Tony Abel.
Whilst it may not have the same life-or-death implications in business, it is still a good maxim to adopt if you want to do things right, and nowhere is that more true than on a building site.
Making a construction project successful – and that success can be measured in everything from making sure everyone on site is safe to the quality of the end product – is a huge job, and doing it well needs a good measure of old-fashioned pride in the job.
Building new homes is by its nature disruptive to those who live and work nearby, and a good site manager will do everything they can to minimise that disruption and be a 'good neighbour'.  They will also take great pride in delivering top quality workmanship, not just in the homes which are the visible end product, but also all of the vital bits you don't see, such as the house foundations, preparations for the roads, the drains and the service ducts and so on.
Being a good site manager means consistently leading your team to the highest standards of workmanship; it means excellent leadership skills, technical knowledge and the ability to turn the architect's intentions into reality; it also means ensuring good health and safety standards and being committed to raising standards.
Our site managers are the people right on the front line of building top quality new homes, and we rely on their skills, professionalism and dedication to ensure that the construction process runs smoothly, and that the new homes which are the end result of their labours are of the highest standards.
So we were delighted when not one, but two, of our site managers scooped prestigious 'Pride in the Job' Awards from the National House Builders Confederation (there were only eight awarded in the whole of Norfolk).  Tim Walsingham, manager at our Swan's Nest site in Swaffham, and Alan Read, who is in charge of our The Limes site in Little Melton have both been recognised for their excellent work, and now go forward to the NHBC's 'Seal of Excellence' Award, the next stage in the annual search for the best site manager in the UK.
That we have won two such accolades is a reflection of the effort we put into keeping quality standards high on our sites.  We recognise that not only is it important to build the best new homes that we can, but the process of getting there has to be done safely, and in a manner which causes the least disruption for those who live and work close to where we are working.
Pride, of course, is one of the seven deadly sins.  But when it's a question of taking pride in your work, and doing everything you can to make sure you do a good job, I reckon it can also be a virtue.