Telling A Singular Storey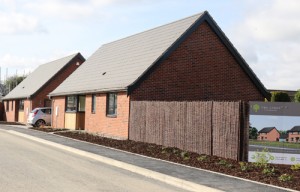 We like to think that we live in a fashion-driven world.  Magazines and television constantly tell us what the next big thing is, with the result that you could be forgiven for thinking that absolutely everybody is wearing the latest out-there clothing from the catwalk, or drinking exotic chia tea from the Himalayas, writes Tony Abel.
Except, of course, they are not.  There is a huge difference between fashionable and popular.  The fact is that most of us wear clothes from mainstream High Street retailers, and PG Tips remains the thing most of us want in our morning cuppa.
You see this in the housing market as well.  Most media commentators dismiss bungalows as an unfashionable throwback to the 1970s, but the fact remains that single-storey living is as popular as it has ever been.
It's a shame, then, that across the country, house builders are ignoring this fact.  In 2017, just two per cent of all new homes in the UK were bungalows, down from 15 per cent just 30 years earlier.  And yet, as we can all look forward to a longer life lived independently, demand for single-storey dwellings is buoyant.
It is easy to see why the decline in bungalow building happened.  Previous planning guidance was very prescriptive on housing density – how many homes had to be built on a given area of land – and building on just one storey made achieving that much more difficult.
But recent changes to those guidelines have opened the door to including more bungalows in new developments.  So why are so few still being built?  There is a huge clamour for us to be creating homes for first-time buyers, but surely we also need to be providing sufficient properties for older generations further up the ladder to move into, so that the larger homes that they tend to come from are freed up for growing families.
At Abel Homes, around one in ten new homes we build is a bungalow.  That is way above the national average; as a local firm, we understand better the needs of local communities, and we know what Norfolk people are looking for in a home. 
It is also why we are building chalet bungalows – essentially single-storey homes with two rooms and a bathroom upstairs, but where the main bedroom is on the ground floor.  They offer the flexibility of having a family guest bedroom, office or recreational space upstairs, but with the ability to live completely on one floor if that becomes necessary.
In general, people want somewhere which will continue to be suitable as they get older, but which is also a modern, liveable home right now.  That means energy efficiency, it means fibre broadband to the premises, and it means a contemporary, liveable design which is a world away from the poor quality 1970s bungalows which colour so many people's perceptions of single-storey living.
Abel Homes currently have bungalows and chalet bungalows for sale at their sites in Swaffham, Watton and Mattishall.  For more details visit www.abelhomes.co.uk.