The Name On The Street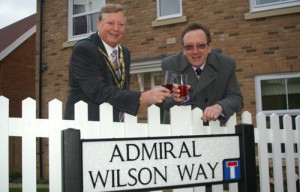 What's in a name?  Quite a lot, actually, and when you are responsible for coming up with a name which will forever form part of many people's addresses, not to mention be a permanent part of a local community, it is important to get it right, writes Tony Abel.
One of the responsibilities when we build new homes is to decide what the various roads, streets and closes will be called.  Creating postal addresses in this manner is something which should be carefully done, because the name will be part of the locality long after the builder has finished their work and departed.
Because the choice of street name lies with the developer, some take the opportunity to indulge in a little vanity.  You hear stories of streets being named after the builder's wife and children, or else given names which have no link with the local community whatsoever.
Given that any street name will form part of the fabric of the location in which it is situated, surely it's better to come up with names which have some kind of local connection.
Some years ago, when we were looking for ideas for a name for the main road at a site in Swaffham where we were building new homes, we fell into conversation with a local historian about a Swaffham hero whose bravery was not at that stage recognised anywhere in the town.
Admiral Sir Arthur Knyvet Wilson was a Victorian naval man who won a Victoria Cross at the Battle of El Teb in the Sudan in 1884.  Born in Swaffham, his name was largely forgotten.  We were delighted to be able to put this right, and every time residents turn into Admiral Wilson Way, they are reminded of the local man's bravery.
This issue again came to mind last week when we were putting forward ideas for the names of roads on our new site at Bawdeswell, where we are building 40 new energy-efficient family homes.
The local parish council was keen that we considered local history once again.  In November 1944, a Mosquito from 608 Squadron based at RAF Downham Market was one of 12 returning from a raid on Gelsenkirchen in Germany.  In freezing conditions, the plane became ice-bound, and hit some electricity cables on Reepham Road in the village, before crashing into All Saints Church, setting it on fire.  Sadly, both crew members were killed.
Bawdeswell Parish Council, conscious that the two airman should be remembered in perpetuity, came to us and asked whether we might consider incorporating their names in the street names for our new site.  This struck us as an excellent idea, and so Melvin Tansley Drive and James McClean Loke will proudly form part of the new development.
This kind of locally-linked street naming is a much more effective way of building new communities than picking random names out of the air.  Names matter, and a local connection is generally the best solution.
Abel Homes 'Bluebell Rise' site in Bawdeswell, where 40 energy-efficient family homes are being built, will be launched over the weekend of 8th-10th November.  To register an interest, visit www.abelhomes.co.uk.