Traditional Ceremony With Local Beer Marks 28 New Homes For Little Melton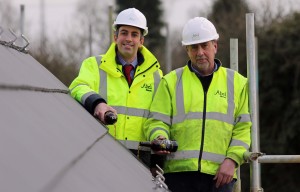 The construction of 28 new energy-efficient family homes in Little Melton has been marked by a traditional topping-out ceremony – with locally-brewed beer poured over the roof tiles.
Paul LeGrice, managing director of Watton-based Abel Homes, joined site manager Alan Read on the roof of the first of the homes to be made watertight to perform the ceremony, just weeks before the first tranche of new homes goes on sale.
Situated on Mill Road close to the village hall, the 28 new two-, three, four- and five-bedroom houses and bungalows will have the top 'A' rating for energy efficiency and include features such as photo-voltaic solar panels, triple glazing and high levels of insulation, as well as fibre broadband direct to each home.
The first homes will go on sale early in April, just seven months after the first sod was cut at the site by Little Melton Parish Council chair John Heaser.  The site will be called 'The Limes', named after a special Jubilee lime tree planted close to the site by the vicar of Little Melton in 1887, to mark Queen Victoria's Golden Jubilee. 
As part of the development, Abel Homes is creating a public open space on the site, and – as the family-owned firm does on all its sites – will commission a piece of public artwork to provide a focal point for the new community.
"Little Melton is such an attractive place to be building new homes, as it retains a village community feel, despite being so close to Norwich," said Mr LeGrice.  "The village needs good quality, affordable, energy-efficient homes, and that is what we are building here.
"We have worked hard with the parish council to ensure that we pitched our plans just right for the local community – and today we have topped out the first home with beer brewed just a few miles away, emphasising that we are a local house builder ourselves."
Full details about the new development can be found here.