Watton - A Norfolk Market Town That's Full Of Character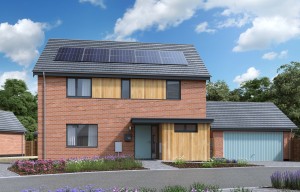 Situated in the heart of the beautiful Breckland countryside you will find the market town of Watton, an ideal location in Norfolk that is close to the A11 major trunk road and plenty of popular neighbouring towns.
Watton is a fantastic place to invest in a new home, with lower property prices compared to the regional average. Lots of working couples, families and the retired are moving to the area to enjoy the peace and quiet of the rural setting, combined with the benefits of having easy access to Norfolk's major towns, career opportunities, close by countryside gems and the coast.
The towns welcoming and thriving market is held every Wednesday and showcases some fantastic regional delicacies that include freshwater crayfish and samphire. Watton is dotted with delightful independent shops, full of unique handmade crafts, gifts and homeware. Along it's charming streets you will find a doctor's clinic, primary and secondary schools, a library, post office and a large Tesco's supermarket - providing all the local necessities needed.
Watton sits comfortably next to Thetford Forest, a 43,000 acre Special Area of Conservation, full of thrilling outdoor activities for the whole family to enjoy, including Go Ape and High Lodge. A short 30 minute drive from the town will take you to the fine city of Norwich, providing ease of access to the Norfolk & Norwich University Hospital (NNUH), the University of East Anglia (UEA) with its iconic campus and the Norwich Research Park. If you go half an hour further to the north or east, you'll find the stunning Norfolk coastline, known for its spectacular cliff views, sandy beaches and locally sourced seafood.
Just 20 minutes north of the bustling town lies Dereham, its' streets lined with popular shops, leisure facilities and cosy coffee shops and travel 20 minutes east and you'll find the quaint town of Attleborough, with charming cafes and shopping spots.
You'll also find the busy Breckland Business Park, Neaton Business Park & Threxton Road Industrial Estate in Watton, where scores of thriving businesses all reside together within half a mile of the town centre, making Watton a hub of employment in the area. The town is also a short commute to Norwich, Dereham, Wymondham & Thetford where there are further employment opportunities.
Broom Hall, a Victorian country house hotel, sits quietly within the borders of Watton offering two acres of flourishing gardens, an indoor swimming pool and functioning bar. For a spot of golf, visit Richmond Park Golf Club, an 18-hole course, clubhouse and carvery, set in 100 acres of parkland that includes the River Wissey that winds its way through the gorgeous scenery and onto the course itself, providing players with a unique challenge.
Hare's Green, Watton is an exciting new housing development of energy efficient, modern homes for sale. View the 2, 3 and 4 bedroom homes & bungalows available or arrange a viewing by calling 01953 884308.