Work Starts On 105 New Family Homes In Swaffham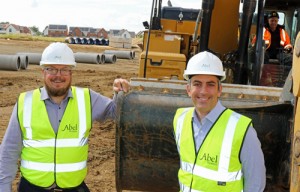 Work has started on the fifth and final phase of Abel Homes' Swan's Nest site in Swaffham.  Managing director Paul Legrice and award-winning site manager Tim Walsingham cut the first sod on the site, where 105 family homes are set to be built alongside the 319 homes in Phases One to Four.
Swan's Nest was launched in 2015, and is the largest site built by the Norfolk-based house builder.  The development has been a runaway success, with most of the homes sold off-plan.
"After six years on the site, breaking ground for the fifth and final phase is an exciting moment for us," said Mr LeGrice.  "The demand for our new homes in Swaffham has been consistently strong since the start of Swan's Nest.
"It is calculated that every new home which is built supports two construction jobs for a whole year, so Swan's Nest has been an important source of employment for the community – with the vast majority of those jobs going to local people.
"We are proud to have built a sustainable, vibrant new community of high quality new homes in Swaffham."
The Watton-based firm is planning to build more new family homes in the town on another site on the south side of Swaffham, where it has outline planning consent for 160 new homes, as well as a 64 bed care home, 40 assisted living dwellings, and retail units.
The first homes in Phase Five of Swan's Nest are due to be released for sale at the turn of the year.