Work Starts On 85 New Energy-Efficient Homes In East Harling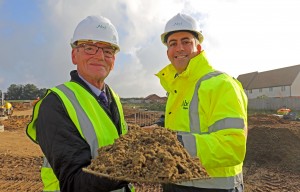 Work has started on the construction of 85 new energy-efficient homes in East Harling.  Paul LeGrice, managing director of Abel Homes, was joined by  Philip Edge, chairman of  Harling Parish Council, to cut the first sod on the site, which is between Kenninghall Road and Quidenham Road, just to the east of the village centre.
The Norfolk-based house builder will be building a mixture of two-, three-, four- and five-bedroom homes on the site.  Fifteen of the new homes will be provided as affordable homes.
The new homes will all have the top 'A' rating for energy efficiency, including features such as photo-voltaic solar panels, underfloor heating, triple glazing and high levels of insulation, and will also feature fibre broadband direct to each home.
As part of the development, Abel Homes will create a public open space on the site, and has also made a commitment to provide a piece of public artwork on every site where it builds homes.
Helping to dig the first sod, Harling Parish Council chairman Philip Edge said, "This land was allocated for new homes 14 years ago, and has always been the Parish Council's preferred site.
"We are absolutely delighted to be working with Abel Homes to bring these new homes into existence.  It really helps that it's a local firm with such a good reputation.  We have never been in the position before where we have had such close contact with a developer."
Abel Homes managing director Paul LeGrice said, "We are delighted to be building new family homes in East Harling.  We are once again showing our commitment to sustainability by building all of the new homes to the highest 'A' rating for energy efficiency – something which only three per cent of all new homes built in England achieve."
The first new homes will be released for sale in summer 2023.  Anyone interested in the new homes can register their interest at www.abelhomes.co.uk.