Young And Old Vie For Professional Art Commission In Swaffham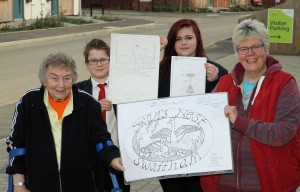 Two young artists are vying with a 76-year-old to win a professional commission to produce a piece of community art in Swaffham.
14-year-old Nicholas Hamond Academy students Jess Drake and Elliot Clark are two of the three finalists in a competition to design the new artwork, which will be unveiled as the centrepiece of the town's newest community.  76-year-old Dereham artist Pat Howe completes the shortlisted trio.
Now judges are set to complete the difficult task of selecting and outright winner, whose design will be commissioned by local house builder Abel Homes to be positioned at its Swan's Nest site on the southern edge of the town, where it is building 82 family homes.
Chair of Breckland Council's planning committee Nigel Wilkin, Swan's Nest resident Penny Rolfe and Abel Homes director Maggie Abel will announce the winning design later this month.
The Watton-based firm challenged local artists – including students at the nearby Nicholas Hamond Academy – to come up with designs for the artwork, with the prize being a professional commission which will see the winning design installed on a piece of public open space on the site.
The three shortlisted artists are:
14-year-old Year 9 student Jess drake, from Swaffham, who has proposed a 7ft tall village sign made of brick, tiles and wood, topped with a steel silhouette of the words 'Swan's Nest, topped by a carved wooden swan.  Jess said the challenge was to think how her design would all come together, and she researched other local village signs before submitting her designs.
14-year-old Year 9 student Elliot Clark's design is a hanging wrought iron blacksmith-style sign, with a carved wooden swan, with the neck forming the 'S' of the name.  Elliot, who plans to pursue a career as an architect, said thinking about the practicalities of making the sign was as difficult as coming up with the design itself. 
Dereham artist and retired head teacher Pat Howe is the third finalist, submitting an idea for a  three metre wide stained glass sign to be mounted in a solar-powered lightbox on a wall.  Pat, who studied history of art at Cambridge before pursuing a long career teaching in MOD schools abroad, is now a member of the Scarning Art Group.  Her submission is a joint one with stained glass artisan Julie Kirkham of Alby Stained Glass, based at Bawdeswell Garden Centre.
Marcus Sanders, sales and marketing manager of Abel Homes, which has commissioned a piece of public artwork for each of the sites on which it has built new homes since 2010, said, "We always try to find local artists to create the public artworks for our site, and the shortlist for this site shows just what a diverse artistic community we have here in the county.
"All three of the finalists have really grasped what this is all about – creating a focal point for this new community."
The artwork will be installed on a public open space on the site, with an unveiling planned for the autumn.
The new homes at Swan's Nest, which are all 'A' rated for energy efficiency, were launched in April last year.